COMPLETE COMMUNICATION WITH YOUR ASPIRATIONAL CUSTOMER
The website is increasingly becoming the point of interaction between a company and its customers. At Develoop we want to help you organise, manage and communicate your company's information effectively through your corporate website in Spain.
We're not just talking about a repository of information and content, but also the ability to make navigation easier for your visitors through its structure. Therefore, having an appropriate platform for a company's branding is essential to conveying brand values and services. At Develoop Software we create the corporate website that best suits your community of users.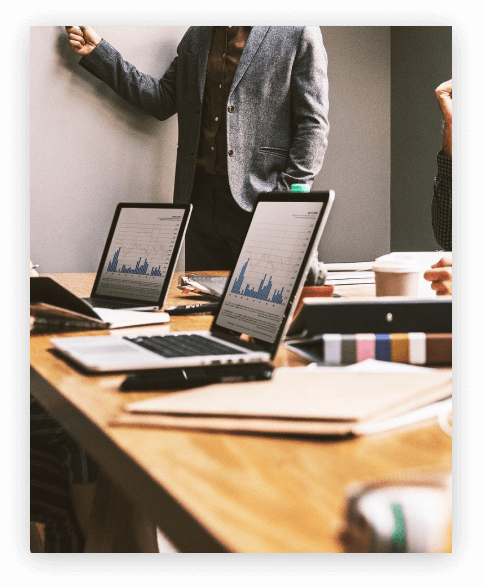 To accomplish this, we have a team of UX and UI analysts in Spain who interpret current trends in usability and web layout so they can be put into practice in an appropriate and intuitive interface. Based on the corporate identity, a graphic design proposal is prepared in alignment with the required structure and content. The various functionalities such as searching for services, promotional landing pages, advanced contact forms and so on are merged into an organised site aimed at facilitating visitor interactions with the company's information.
Just as important as the visual user interface is the positioning of the content on search engines and other search systems. To this end, our team is continually being updated so they can meet the demands of Google's algorithms to ensure your content is prioritised over that of your competitors. Copy texts or image descriptions are combined with the most relevant meta for each page. This guidance is the result of two decades working with web projects and mass-market clients in Spain.
THE IDEAL SUPPORT FOR YOUR ONLINE PROMOTIONS
The framework for the development of a corporate website means there are also opportunities for promotion or return on impacts on social media. The creation of themed landing pages for each service or product allows them to be presented in a customised design that best meets your requirements. This personalised showcase allows the particularities of the product concerned to be highlighted, with the aim of creating greater affinity with the consumer or client in Spain. These structures are common in online marketing campaigns as expanded information on the advertised claim using SEM ads, social ads or email marketing.
Internationalisation of the corporate website is made possible by multi-language tools or user localisation, allowing the automation of content and visuals depending on the visitor's country of origin.
THE SMART CORPORATE WEBSITE OF TODAY
It is said that information is power. Today's corporate sites are far from the static pages of more traditional websites. Analytics and business intelligence capabilities facilitate better awareness of visitors and enable you to learn from their behaviour while modelling the project towards a better user experience.
Learning and correcting through these analyses allows for a closer affinity with future clients who will find the navigation environment to be an agile tool that meets their expectations for the company.